Orlando Hypnotist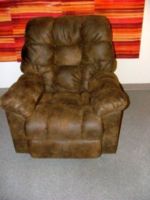 Orlando hypnotist Daniel Olson uses this trance Chair. Obviously it is a very special chair in Daniel's office where profound changes occur.

If the Trance Chair will accept you, it can help Daniel and you in your quest to experience personal development, growth and change in your life. The Trance Chair has been soaking up the energies of the many wonderful trance-formative experiences that have happened within its relaxing and comfortable confines. Clients find that they can't help just slipping into a relaxed state of hypnotic trance as soon as they sit back and are enfolded into the leather-scented cushions. In fact, Daniel's biggest problem with the Trance Chair is making sure that clients don't relax . . . too fast.

If you're curious to experience the powerful trance-formations you can make in the Trance Chair, contact Orlando Hypnotist Daniel Olson for a private appointment.

For a private hypnosis session, you can contact Daniel at [email protected] or call 407-740-6090 today.


©2001-2006 Daniel Olson



Website maintainance by Caterina Christakos

Graphics and Webdesign by Lionrhod